Training Run Report, Sunday May 12th 2019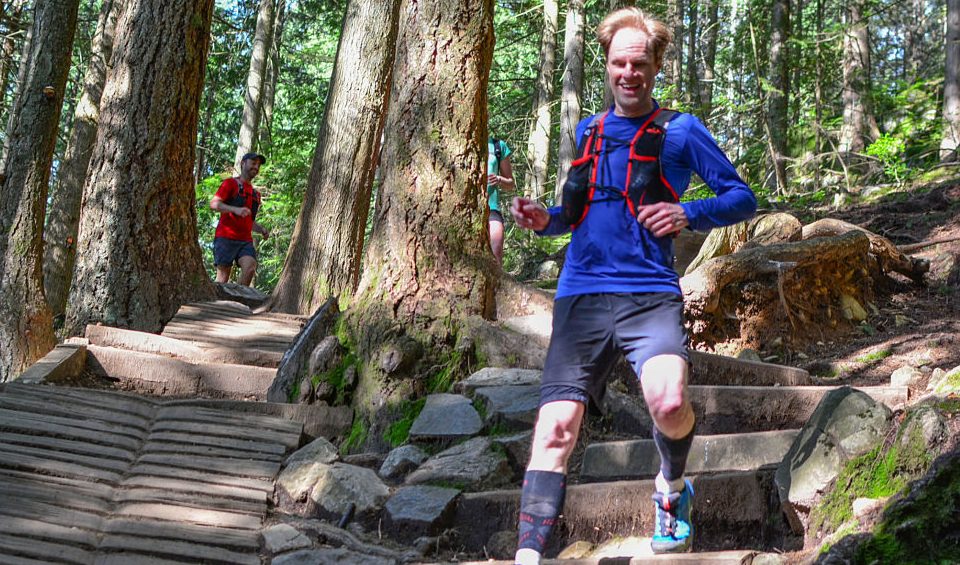 We had a nice break from the heatwave that sat on the West Coast for the past few days. On this Mother's day training run, the clouds moved in and brought some welcome cool air and shade. As it has happened in previous years, the group starts to grow with each passing week. Out of the 40 folks who joined the run, there were a few folks who had participated in the Vancouver BMO Marathon the week prior, and came out to stretch their tired legs on this "casual" out-and-back from Grouse Mountain to LSCR and back.
I'd like to thank the fellow that was taking out the fallen (burned) log that had fallen across the trail a few weeks ago. He was well prepared and had lugged quite a bit of gear to get that log out of the way. Unfortunately, I did not catch his name.
Each week will be a build up to get you used to the time you'll be on your feet, keeping your mind focused on the technicality of the trail underfoot, as well as getting oriented with the specifics of the Baden Powell Trail.
This coming Sunday we will focus on climbing (and more climbing). We will be starting in the same place, but taking a long and winding route to the top of Grouse (see the
website
for route details). Make sure you are prepared, as the conditions can vary quite a bit from the bottom of the mountain to the top. Typically, there can be quite a variance in temperature from top to bottom (about 6c)…not as bad on sunny days, but definitely on cloudy (and especially rainy) days. The route can often have snow on the upper portions and the air can be quite cool, so I highly recommend a wind shirt (or rain jacket), gloves, and a toque (or buff). If not for the run, then for the wait for the ride down… or if you get injured and have to sit and wait for a bit….you'll be surprised at how fast you will cool down. You might also want to bring some cash or credit for the tram ride down ($15), or for a celebratory beer. Some folks opt to run down….if you do, please don't use the Grind as it is far too busy. I would even caution that the BCMC is getting quite busy as well. There are other options which we will discuss at the pre-run briefing on Sunday.