Press Release – Knee Knacker 2017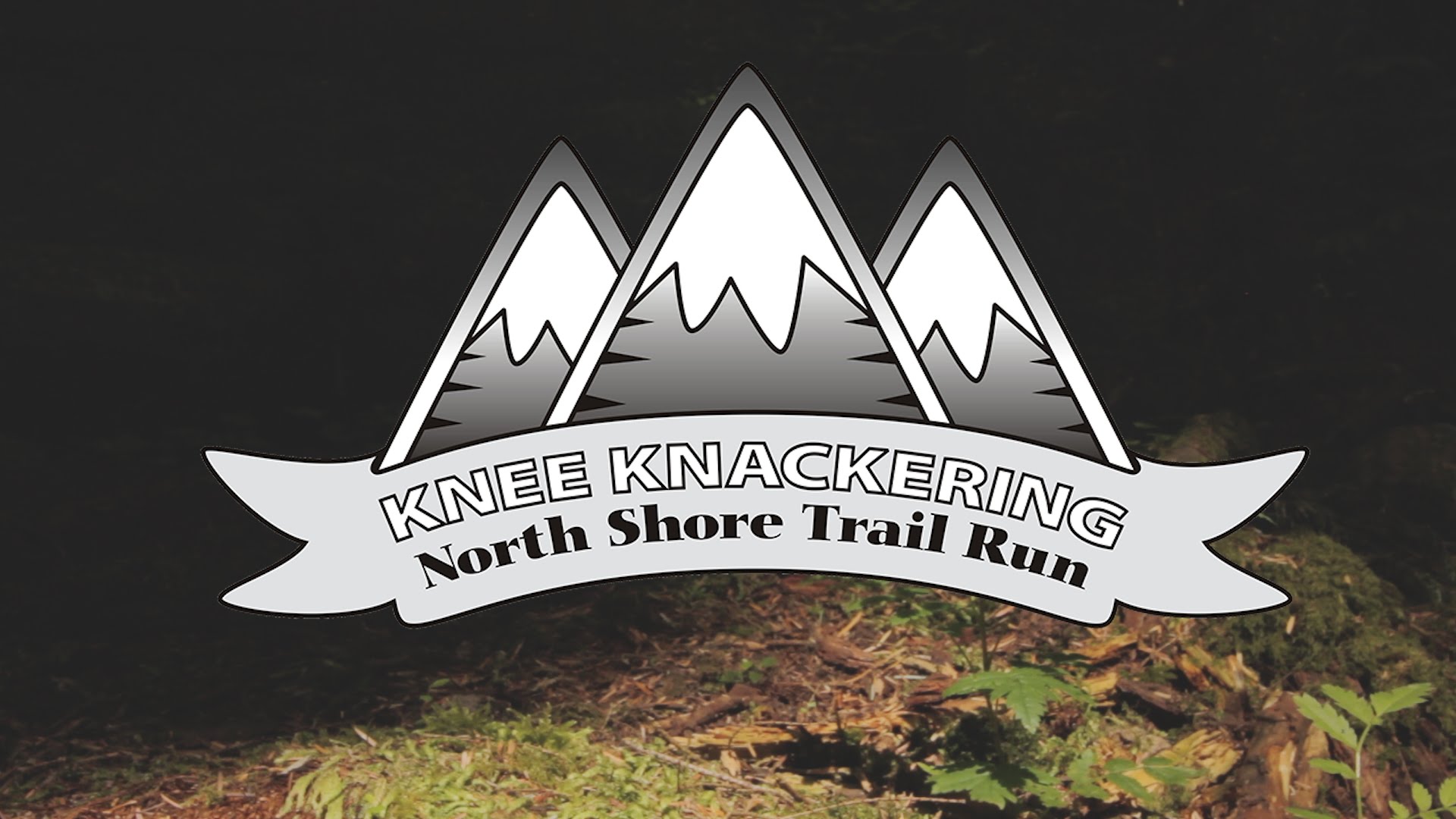 (North Vancouver, British Columbia) – The Knee Knackering North Shore Trail Run, commonly know as the 'Knee Knacker', has arrived once again and will be held this coming Saturday, July 8th. As one of Canada's largest and oldest ultra-marathon races, the Knee Knacker takes participants from Horseshoe Bay to Deep Cove along the 30-mile (48.6 km) Baden-Powell trail. Runners go up, over, and around the major North Shore mountains – Cypress, Grouse, and Seymour – gaining over 8,000 feet (2,400 meters) in elevation along the way for a total elevation change of over 16,000 feet (4,800 meters). Runners have 10 hours to complete the crossing of the North Shore with the fastest finishing in under 5 hours.
For a glimpse into the stunning race route, a short video including helicopter footage is available.
The roots of the race trace back to an original field of eight participants in 1989, before the sport of ultra-marathons (races longer than a 26.2-mile marathon) had reached the level of popularity it has today. While there are races over distances longer than the Knee Knacker's 30 miles, not many in North America are tougher. Over the past 28 years, top ultra-marathoners have challenged themselves in what is referred to as the "knarliest" trail race in Canada. However, the great appeal of the race is that it caters to runners of all levels testing the limits of their endurance, and not just elite competitors.
This year, a near-record number of entrants aimed to race as 535 hopefuls applied to the February 2nd lottery and hoped the Lottery Gods would be kind. Of the 272 names drawn, it is expected that approximately 210 runners, 50% who will be tackling the Knee Knacker for the first time, will be on the start line at 6:00am in Nelson Park, West Vancouver for race day.
With an impeccable community and amazing terrain, the Knee Knacker draws people back. To date, six people have run the race 20 times and 59 have completed it 10 times. This year will see 7-time champion, and former course record-holder, Peter Findlay from Kamloops aiming to join the 20-time finishers list. Rod Hatfull and Susan Reynolds from Vancouver will celebrate their 10-time finishes, and both Neil Wakelin and Ron Adams from North Vancouver are back for their 27th finish – making Knee Knacker history each year! Looking to join the Knee Knacker Quarter Century club this year is Ean Jackson from North Vancouver. The oldest starter is 18-time Knee Knacker finisher, 73 year-old, Ron Nicholl from Anchorage, and the youngest competitor and someone to watch in the top runners is 17 year-old Malcolm Suarez.
In the women's field, previous Knee Knacker winners Lisa Polizzi and Jacquie Trudeau are returning – proof that Knee Knacker gets in your blood. Vying for the top spot will be Knee Knacker newcomers Katie Mills who is coming off of a recent win and top 10 overall finish at the Puddle Jumper Classic 50km and Pargol Lakhan who is clearly a strong uphiller having just completed 13 Grouse Grinds in the annual challenge. While it is likely that Ellie Greenwood's record of 5:06 will stand this year, with 50% newcomers to the race, we're expecting some unknown speedsters will be at the start line to push the pace.
The contenders for the men's title promise some spectacular times. Though there was a significant snow in the high country this year, it has been melting fast and with the forecast for sun to continue, coupled with the depth of talent on the start line, there is speculation about the potential for course record times.
Nick Elson, Ed Mccarthy and Mike Murphy have all posted sub-5hour Knee Knacker finishes within the last 4 years and 7-time champion Peter Findlay has been in this elusive club on 5 separate occasions. On the cusp of the sub 5-hour club and running strong are returning Knee Knackerers Colin Miller, Simon Driver and Jeremy Clegg. This coupled with some speedy newcomers in Ullas Narayana and Cody Callon will likely make for an intense front of the pack shake down over the North Shore Mountains.
The race starts at 6:00am on Saturday, July 8th just above Horseshoe Bay at Exit #4 off of Westport Road. All runners must arrive at the finish line in Panorama Park, Deep Cove by the race cut-off time of 4:00 pm. The following is an estimated schedule of where and when to catch the runners in action:
| | | | | |
| --- | --- | --- | --- | --- |
| | First Runners | 5hr 45 Minute Runner | 7hr 30 Minute Runner | 10 Hour Runner |
| Cypress Bowl Ski Area | 7:15 am | 7:35 am | 8:05 am | 8:50 am |
| Cleveland Dam Parking Lot | 8:15 am | 8:45 am | 9:40 am | 10:55 am |
| Seymour Demonstration Forest, Gazebo Area | 9:20 am | 10:10 am | 11:25 am | 1:20 pm |
| Panorama Park, Deep Cove | 10:40 am | 11:40 am | 1:30 pm | 4:00 pm |
A schedule of race activities is available at www.kneeknacker.com and members of the media are invited and encouraged to attend any or all of the event. A good opportunity to meet the runners is at the packet pickup and race briefing on Thursday, July 6th from 5:30 to 7:30pm at Salomon, in Park Royal, West Vancouver.
The Knee Knacker is a volunteer-run, non-profit race that has raised over $100,000 for local community organizations since its inception. As in the past years, donations from this year's race support the North Shore Rescue (NSR) team. To make your own donation to NSR, visit the Knee Knacker site at www.kneeknacker.com.
For further information, please contact:
Kelsy Trigg,
Race Director 604-787-8097,