2018 Trail work party information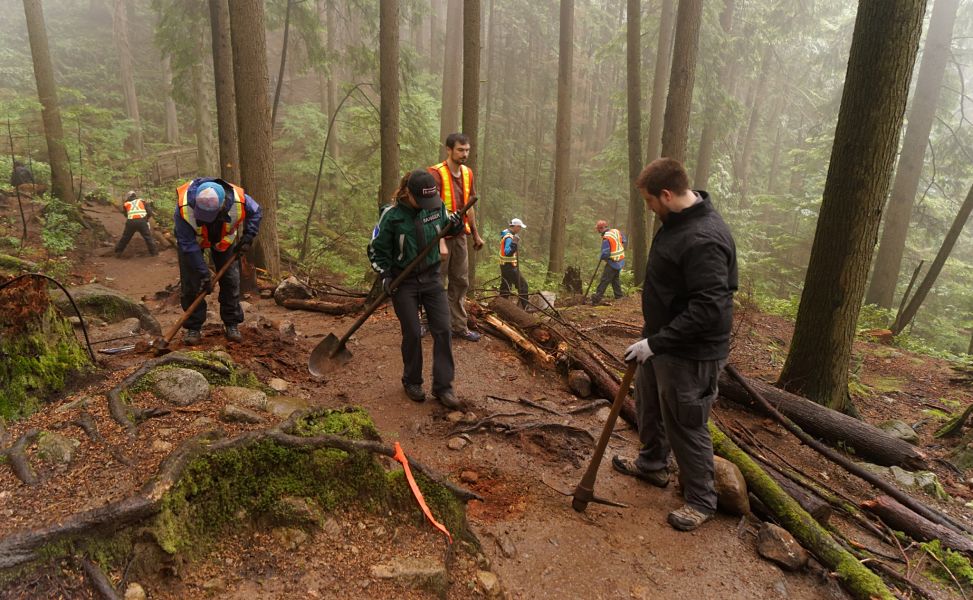 Join us for our 2018 trail work party to give back to the trails we love to run on!
When: Saturday, June 2nd from 9:00 am to 12:00 pm.
Where: Kilmer creek on the Baden-Powell trail.
Meet: At the eastern end of Braemar Road in Lynn Valley, North Vancouver.
That is the dead end that is north-east of the intersection of Dempsey and Braemar.
Please be mindful of the neighbors when parking!
What to bring: Work gloves if you have, appropriate clothes for dirt, wet, and cold, food and water.
Experience needed: None.
RSVP: Please sign up by emailing trailday@kneeknacker.com ASAP!
Here are the details from Tyler Farley, the DNV trail and habitat coordinator:
We'll be working on the Baden Powell again this year, in a similar area to last year. I have eyed up work on two projects which will be located along the Kilmer Creek basin. We will access the site by parking at the end of E Braemar Road and then hiking up the Kilmer Trail to the Baden Powell. We will meet at 9 am on Saturday and will try to work until 12 pm, weather permitting.The first worksite is right in the Kilmer Creek basin and will include some channeling work and armouring up creek banks to help prevent creek overflow onto the bridge during heavy rain events.

The second site will be focussed on drainage as well and the creation of a raised trail-bed into a rock armoured drainage channel. This will help get water off the trail and prevent future erosion in the area.

Ideally, we will have about 10-12 people for these works, but if more come out then there is no shortage of other works along the Baden Powell that I can get them to do. Friday and Saturday do currently have rain in the forecast so please be dressed appropriately for colder and wetter climates for working in. I also suggest bringing ample amounts of food and water to keep you going. Bringing your own work gloves is best, but I will have some spare ones available.