So…What Are We Offering At Our Knee Knacker Aid Stations This Year?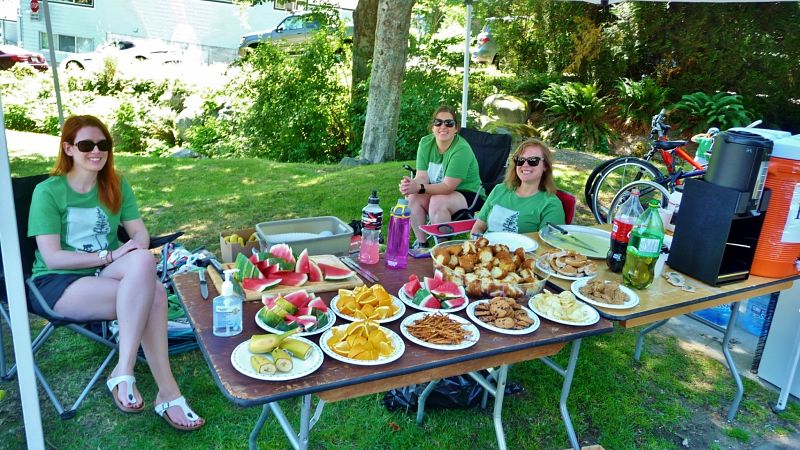 Lots. 
Our aid stations will once again be stocked and ready to help support you while you run across the North Shore Mountains on Saturday, July 13th.
Whether it is a minor, intermediate, or major aid station, fabulous volunteers at each station will be there to support and provide you with fuel/food mixed in with cheers and encouragement!  Then they will send you on your way to the finish line!
Check out below what they will provide for you!
Enjoy!
Patricia Jensen
Aid Station Coordinator
Location
Aid type
Distance in kilometers (miles)
Menu
Black Mountain
Minor
8.2 (5.1)
- water only, limited cups available.
Cypress
Major
12.0 (7.5)
- water, flat coke, Tailwind sports drink, bars and gels
- bananas, oranges, watermelon
- fig/fruit new­tons, cook­ies, jube jubes, M&Ms
- potato chips, pretzels
- cooked pota­toes
- pickles/pickle-juice
- basic first aid supplies, sunscreen
Hollyburn Lodge
Minor
16.4 (10.2)
- water only
Cleveland Dam

Major
24.1 (15.0)
- water, flat coke, Tailwind sports drink, bars and
gels
- bananas, oranges, watermelon
- fig/fruit new­tons, cook­ies, jube jubes, M&Ms
- potato chips, pretzels
- cooked pota­toes
- pickles/pickle-juice
- special goodies from the volunteers
- basic first aid supplies, sunscreen
Skyline Drive
Intermediate
28.5 (17.7)
- water, flat coke, ginger ale
- some Tailwind sports drink, gels and bars
- bananas, oranges, watermelon
- fig/fruit new­tons, cookies
- potato chips 'pretzels
- pickles/pickle-juice
- basic first aid supplies
Mountain Highway
Minor
32.8 (20.4)
- water, flat coke, ginger ale
- some Tailwind replacement drink
- jube jubes, chips, pretzels
- pickles/pickle-juice
- basic first aid supplies
Lower Seymour Conservation Reserve (LSCR)
Major
35.4 (22.0)
- water, flat coke, ginger ale
- Tailwind sports drink, gels and bars
- bananas, oranges, watermelon
- fig/fruit new­tons, cook­ies, jube jubes, M&Ms
- potato chips, pretzels
- cooked pota­toes
- pickles/pickle-juice
- basic first aid supplies and sunscreen
- ice
Hyannis Drive
Intermediate
39.9 (24.8)
- water, flat coke, ginger ale
- Tailwind sports drink, gels and bars
- bananas, oranges, watermelon
- fig/fruit newtons, cookies
- potato chips, pretzels
- cooked potatoes
-pickles/juice
- basic first aid supplies
Mt. Seymour Road
Intermediate
44.3 (27.5)
- water, flat coke, ginger ale
- Tailwind sports drink, gels and bars
- bananas, oranges, watermelon
- fig/fruit newtons, cookies, jube jubes, M&Ms
- potato chips, pretzels
- basic first aid supplies