What's On The Aid Stations Menu This Year?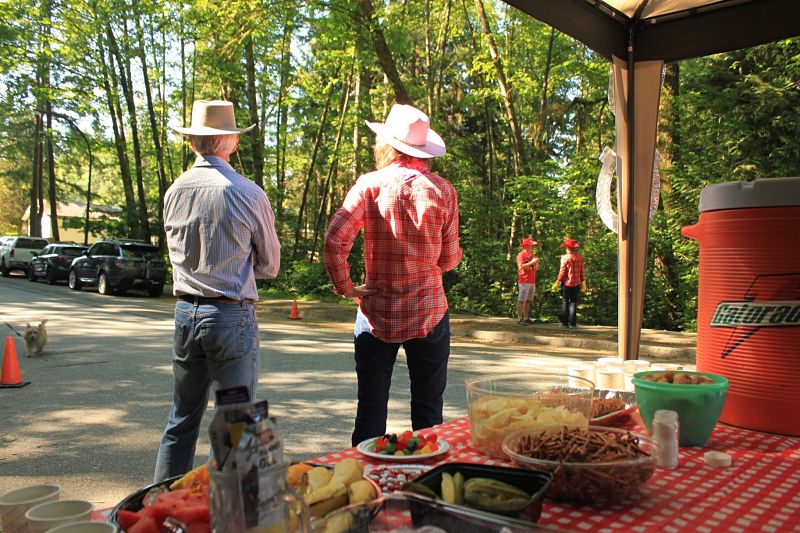 So…. What's on the menu at the Knee Knacker aid stations this year?
Lots.
Take a look at the chart below and you will notice a whole variety of food and drink to fuel you towards the finish line this year.
Plus, when you arrive at some of these stations on race day, you might also notice their own treats have been added to keep you motivated, energized and excited to keep pushing onwards!
Patricia Jensen
Aid Station Coordinator
---
Location
Aid type
Distance in kilometers (miles)
Menu
Black Mountain
Minor
8.2 (5.1)
- water only, limited cups available.
Cypress
Major
12.0 (7.5)
- water, flat coke, Tailwind sports drink, bars and gels
- bananas, oranges, watermelon
- fig/fruit new­tons, cook­ies, jube jubes, M&Ms
- potato chips, pretzels
- cooked pota­toes
- pickles/pickle-juice
- basic first aid supplies, sunscreen
Hollyburn Lodge
Minor
16.4 (10.2)
- water only
Cleveland Dam

Major
24.1 (15.0)
- water, flat coke, Tailwind sports drink, bars and
gels
- bananas, oranges, watermelon
- fig/fruit new­tons, cook­ies, jube jubes, M&Ms
- potato chips, pretzels
- cooked pota­toes
- pickles/pickle-juice
- special goodies from the volunteers
- basic first aid supplies, sunscreen
Skyline Drive
Intermediate
28.5 (17.7)
- water, flat coke, ginger ale
- some Tailwind sports drink, gels and bars
- bananas, oranges, watermelon
- fig/fruit new­tons, cookies
- potato chips 'pretzels
- pickles/pickle-juice
- basic first aid supplies
Mountain Highway
Minor
32.8 (20.4)
- water, flat coke, ginger ale
- some Tailwind replacement drink
- jube jubes, chips, pretzels
- pickles/pickle-juice
- basic first aid supplies
Lower Seymour Conservation Reserve (LSCR)
Major
35.4 (22.0)
- water, flat coke, ginger ale
- Tailwind sports drink, gels and bars
- bananas, oranges, watermelon
- fig/fruit new­tons, cook­ies, jube jubes, M&Ms
- potato chips, pretzels
- cooked pota­toes
- pickles/pickle-juice
- basic first aid supplies and sunscreen
- ice
Hyannis Drive
Intermediate
39.9 (24.8)
- water, flat coke, ginger ale
- Tailwind sports drink, gels and bars
- bananas, oranges, watermelon
- fig/fruit newtons, cookies
- potato chips, pretzels
- cooked potatoes
-pickles/juice
- basic first aid supplies
Mt. Seymour Road
Intermediate
44.3 (27.5)
- water, flat coke, ginger ale
- Tailwind sports drink, gels and bars
- bananas, oranges, watermelon
- fig/fruit newtons, cookies, jube jubes, M&Ms
- potato chips, pretzels
- basic first aid supplies