Sunday May 7, 2017: Training Run Report by Glenn Pacé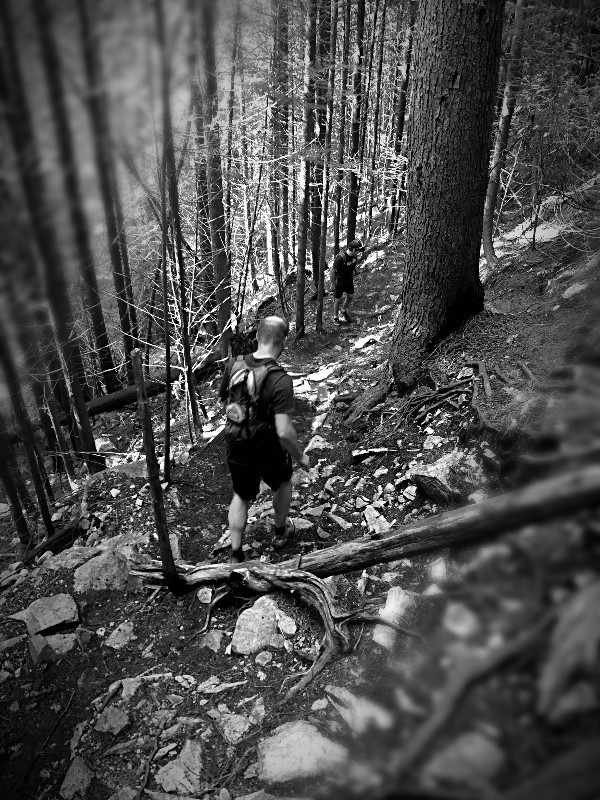 Welcome to the 2017 training runs!!
With the start of a new season upon us, we're always curious to see how conditions play out. The inaugural training run was marked by spectacular sunshine, if not uncommonly low temperatures (6 degrees Celsius at the start!).
The first run of the season usually sees a smaller group since it is the same day as the BMO Marathon. We had about 35 (shivering) people ready to get underway, but they patiently waited for Patricia, Kelsy, and I to go through some housekeeping details before setting off.
The trail was in great shape, save for the usual newly fallen trees, and some trail erosion (which we hope to alleviate with the June 3rd Trail Day). We ran from Grouse to Mountain Highway and back. There were no major incidents, but with the new climbing trails designed for mountain bikes, there were a couple of people that went off track (briefly)….keep your eyes open for the orange triangles. For those that missed the first run, we expect a larger crowd next week, so we will repeat some of the housekeeping details.
One item that I would really like to underscore, is the need for safety
. As the training progresses, the runs will get longer. Despite the fact that we are near a large urban centre, we will still be in the mountains. One twisted ankle will suddenly make you realize how remote you really are. We discussed the "
10 Essentials
"….what that kit looks like depends on what your objective is for the day as well as conditions.
Expect the best, but plan for the worst. We all know what to wear when we're running in various conditions, but would that gear work for you if you suddenly had to stop? You won't be producing the same amount of heat, so the cold may come on suddenly. Some of our runs will take us over the mountains, through snow fields, and raging creeks….there can be a big swing in temperatures from our start to our high point.
Really, the most important essential is common sense. Look at the weather, look at the route (it's on the training schedule), run in a group (or at least with one partner), and gear up accordingly.
Weather:  There are lots of weather apps out there, but keep in mind that forecasts are for urban centres (Vancouver is measured at YVR)…not the micro-climates we may find in the mountains…expect a 6 degree difference form bottom to top.
Route: we post the training run details on the website. You may want to print off a map, carry a compass, or run with experienced people.It's a group run, so run in a group: the trees have a way of thinning out the crowd. While you might think you're on you're own, you'd be surprised who might be 30 seconds behind you. In fact, some of the most experienced and entertaining people may be right behind you. It is often worth the short wait.
Gear: there are many lists you can find on the internet, so I won't repeat what is already out there. I will underscore a couple of items that I have found very helpful.
a lightweight jacket (or a garbage bag). These can weigh as little as 4 oz, but they can be a life saver when the chill comes on (get one with a hood). Whether it's because the temperature drops, a sudden cloud burst, or an injury (yours or someone else).
$20. Some runs are close to urban areas. If you find that you can't get back to your car under your own steam, you might be able to find a road and catch a cab (you would not be the first person to do this…it happens every year).
Communication: 
Always (ALWAYS!!!) let someone know where you are going.
Carry a phone. Most of the Baden Powell trail has cell coverage. Besides their obvious use for texting/calling, smart phones can carry map data as well as locator apps.
I consider a whistle an essential piece of equipment (near the top of my list). The trees, snow, and creeks can muffle sounds but a whistle will pierce through and carry for quite a distance.You may already have a whistle and not even know it….if you run with a pack, the upper clasp often has a built-in whistle…some caps have a whistle built in to the headband clasp.

Have fun this week and we look forward to seeing you on Sunday!
 – Glenn Pacé