2014 media release (post-event review)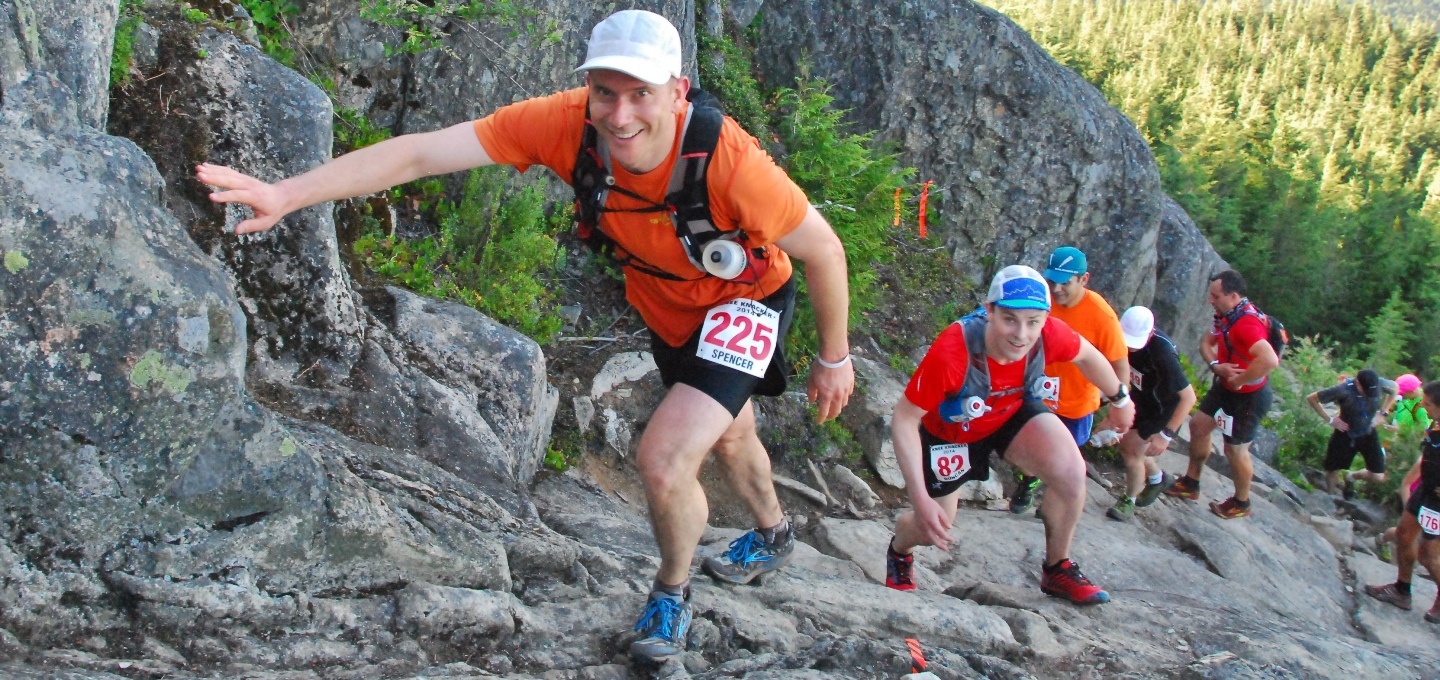 For Immediate Release
The 26th running of the Knee Knackering North Shore Trail Run ("the Knee Knacker") took place on Saturday, July 12, 2014, with ideal trail conditions and the beginnings of a heat wave. In fact, the temperature average was a full five degrees hotter than any previous Knee Knacker high and certainly had an impact on overall finish times. The trail itself was free of snow and the recent warm, dry weather had firmed up most of the muddy patches left behind. The race was on! The only thing standing in the way of the runners was 30 knarly miles along the trails of Vancouver's North Shore mountains and over 16,000 feet of elevation change.
The men's field was a strong one this year and there was some suspicion that Aaron Heidt's course record time of 4:39:52 (set in 2009) was in jeopardy. Mike Murphy, who was second place last year, led the race from the start, while Graeme Wilson and Oliver Utting were in hot pursuit only minutes behind. Although the three top men did not see much of each other throughout the day, the heat never stopped an aggressive chase. With a course record in mind, Mike Murphy set a blazing time of 4:40:49, a little less than a minute shy of the previous record and just over a minute faster than his own previous time of 4:42:32. Wilson and Utting finished minutes behind in 4:56:40 and 5:04:22 respectively.
All the three men took top honours in the Men's 40-49 age group while former race record holder, Peter Findlay, completed the race for the 17th time, winning the Men's 50-59 age group in a time of 5:37:46, good enough for 4th place overall. Twenty-four-time finisher Neil Wakelin finished in 8:25:07 to take fourth place in the Men's 60-69 age group while Dan Kilpatrick, of Coquitlam, won that age group in a time of 7:26:54.
Similar to the men's race, the lead woman, Vancouver's Kim Magnus, led from wire-to-wire to take the win in a time of 5:42:23. Magnus finished 6th overall, only 9 minutes ahead of North Vancouver's Samantha Drove who finished in 5:51:53. Magnus' 6th place finish was the second highest placing for a women in 26 years of Knee Knacker racing while her time was the 11th fastest ever recorded by a female. Both women took top honours in the race along with Vancouver's Kathy Mckay, who finished in 6:06:24. All three also topped out the women's 30-39 age group.
Eeva Latosuo of Anchorage, Alaska claimed victory in the Women's 40-49 age group. Her time of 6:25:52 put her in ahead of second place Chloé Gendron and third place Suzanne Reynolds, who finished in 6:31:46 and 6:51:59 respectively. Knee Knacker race committee member and former Knee Knacker winner, Patricia Jensen, took top honours in the Women's 50-59 age group in a time of 7:24:46. The Women's 60-69 age group was taken by Courtenay, BC's Janet Green in a time of 9:19:46.
Proceeds from this year's race benefit the North Shore Rescue (NSR) team. This year the event continued with a fundraising component to encourage racers to collect individual donations to support NSR. By race day, over $7,387 had been donated and the Knee Knacker event has now raised almost $97,000, since its inception, for local charities and non-profit organizations in the community.
While 209 runners started the Knee Knacker, just above Horseshoe Bay at Nelson Creek Park, 192 finished at Panorama Park, in Deep Cove, by 4:00pm, 10 hours later. Five Knee Knacker runners were honoured for finishing their 10th Knee Knacker at the post-race banquet this year. Barbara Hughes, Christine Chore, Terry Bushnell, Monty Bennett and Chris Benn joined an exclusive group of 47 other runners who have previously attained this milestone.
The amazing achievements of all runners in the 26th running of the Knee Knacker was celebrated in typical banquet and beverages fashion but a special moment was taken for honouring the North Shore Search and Rescue team and the great memory of Tim Jones who, in the words of Race Director Kelsy Trigg, "literally, made mountains move". Both the race and NSR's crucial involvement in Knee Knacker were honoured in an extraordinary short film that can be viewed at https://www.youtube.com/watch?v=z9m8-sEiv78
Complete race results are available online at www.kneeknacker.com
Kelsy Trigg,
Race Director (604) 787-8097 rd@kneeknacker.com