Nick Elson Shatters Knee Knackering North Shore Trail Run Course Record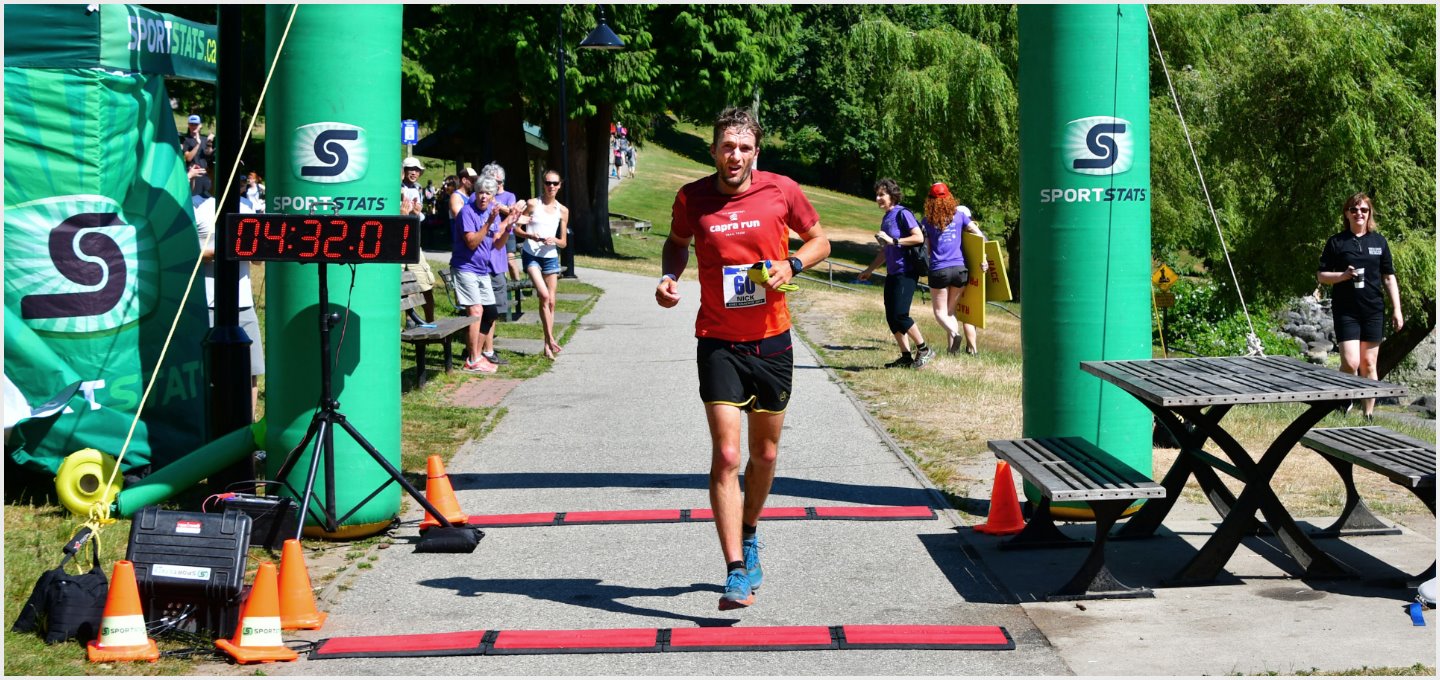 Saturday, July 8th saw the running of the 29th Knee Knackering North Shore Trail Run (the 'Knee Knacker'), the iconic 30-mile ultra-marathon across the North Shore Mountains. With a strong and deep field, Nick Elson from Squamish took the lead from the start, widening the gap throughout the day and setting a world-class record breaking time of 4:32:03. Over the years, it had taken 2 runners – Kevin Titus and Aaron Heidt,18 years to better Peter Findlay's 1991 time of 4:45 by 6 minutes (by Aaron in 2009). That record stood for 8 years and on Saturday, Nick Elson took the record down by over 7 minutes, making his big move in the second half of the race.
Rounding out the top 3 men were Knee Knacker newcomer Cody Callon in a time of 5:06:02 and previous overall Knee Knacker winner (with the previous second fastest time behind Aaron Heidt), Mike Murphy in 5:09:52.
In the Women's race, Knee Knacker newcomer Katie Mills ran strong all day, steadily moving through the field from 6th woman at the ¼ Cypress Aid station to first overall in a time of 6:06:15. Coming in second was previous overall winner, Lisa Polizzi, in a time of 6:12:15, while Sandra Jensen took third place in 6:23:50.
213 runners started the Knee Knacker, just above Horseshoe Bay at Nelson Creek Park, and 193 finished at Panorama Park, in Deep Cove, by 4:00pm, 10 hours later.  The finishing percentage of 90.6% is slightly lower than the historical average of 93.5%, and though weather and course conditions were very good, only 23 people of the 91 returning runners had personal bests and it was the slowest median finishing time in Knee Knacker history.
Two Knee Knacker runners were honoured for finishing their 10th Knee Knacker at the awards ceremony this year. Susan Reynolds, this year's Veteran's winner and Rod Hatfull joined 59 other runners who have previously attained this impressive milestone. This year, 7-time overall winner & previous course record holder Peter Findlay was also honoured for completing his 20th Knee Knacker – Peter's average Knee Knacker time over 20 years is now 5:15:55, just off from his first winning time of 5:15:00 in 1990!
Rounding out the big milestone celebrations were Ean Jackson from North Vancouver completing his 25th Knee Knacker, joining only two others, Neil Wakelin and Ron Adams (now 27-time finishers) who have ever attained this feat.
Once again, the Knee Knacker community raised funds to support North Shore Rescue (NSR) who were out in full force on race day. This year's campaign was successful again and for the third year in a row Barb Wilkins earned herself a coveted automatic race entry as she raised over $3000 on her own. Since its inception, the Knee Knacker event has raised over $100,000 for local charities and non-profit organizations in the community.
Registration for the 2018 Knee Knackering North Shore Trail Run opens on December 31, 2017.
Complete race results are available online at www.kneeknacker.com. For any additional info, contact Kelsy Trigg, Race Director at rd@kneeknacker.com