2014 Media release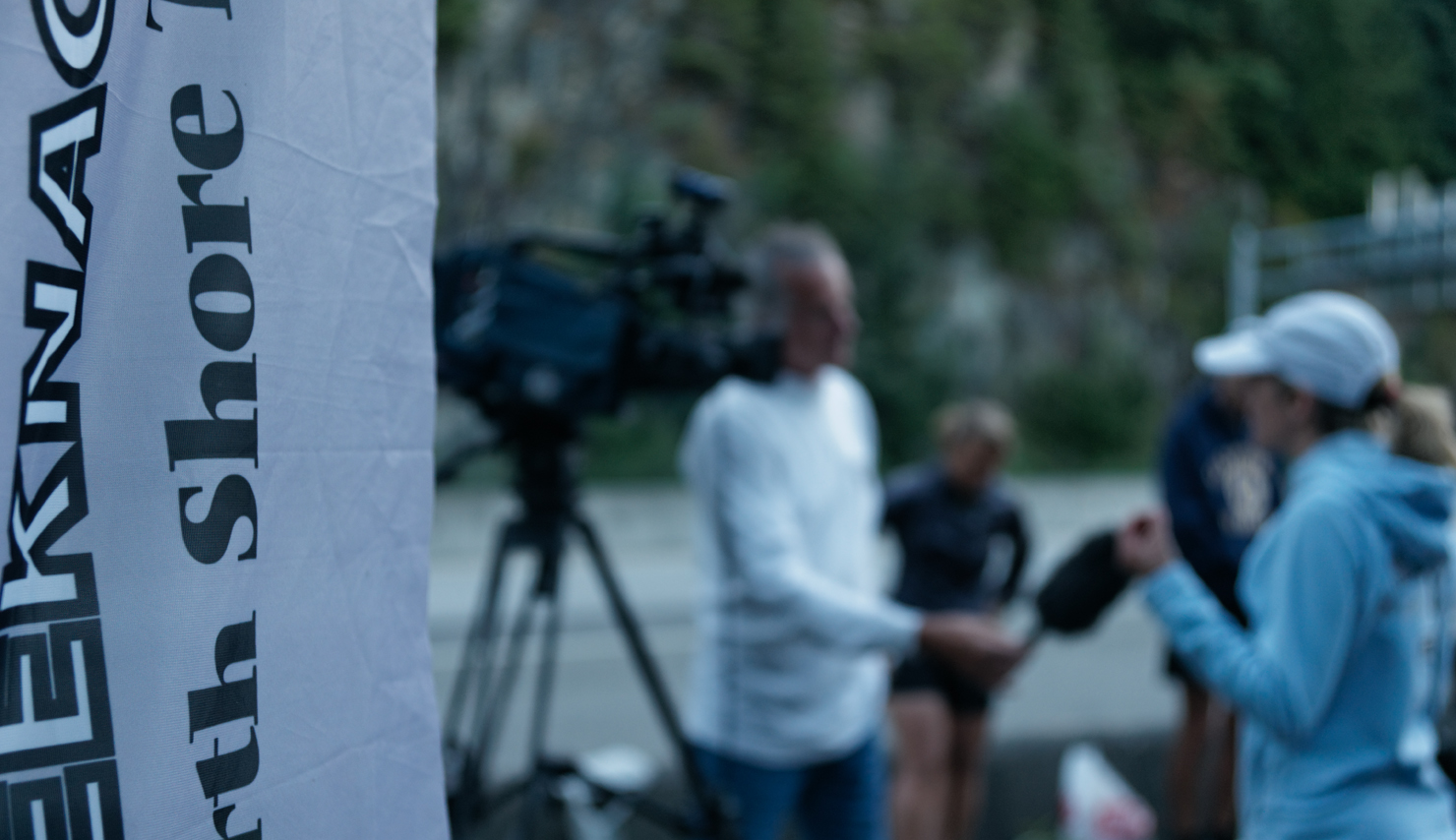 For Immediate Release
West Vancouver, British Columbia – The Knee Knackering North Shore Trail Run (the 'Knee Knacker') is at hand once again, and this year the race celebrates its 26th running. The event takes place on Saturday, July 12, 2014, starting near Horseshoe Bay and ending at Panorama Park in Deep Cove. This year's field is a strong one, with a good number of previous race champions returning to battle the 30-mile course.
The contenders for the men's title promise some spectacular times yet again. With the snow completely gone and mud pits quickly drying, conditions are perfect for speed. It's likely that Mike Murphy, who was only seconds off the win last year, and Graeme Wilson, a man well known for fast marathon times, will set the pace early. Accomplished ultra-runner and previous sub-five hour Knee Knackerer, Oliver Utting could also push the pack and challenge for the overall victory. Previous seven-time overall winner and current Master's course record holder, Peter Findlay, from Kamloops, will also be back to challenge.
In the women's field, coming off a strong win at Diez Vista 50k this year, it is likely Samantha Drove, of North Vancouver, will push the lead women along with Vancouver's Kim Magnus, who was the third place woman last year. Kathy Mckay and Chloé Gendron, who has had a very strong season thus far, will likely be challenging to round out the top spots.
This year, over 400 entrants applied to the lottery which was held on March 3rd. Of the 270 names drawn, it is expected that just over 200 runners will be on the start line for race day.
As one of Canada's largest ultra-marathon races, the Knee Knacker takes participants from Horseshoe Bay to Deep Cove along the 30-mile (48.6 km) Baden-Powell trail. Runners go up, over, and around the major North Shore mountains – Cypress, Grouse, and Seymour – gaining over 8,000 feet (2,400 meters) in elevation along the way for a total elevation change of over 16,000 feet (4,800 meters).
For a glimpse into the stunning race route, a short video including helicopter footage is available at https://www.youtube.com/watch?v=z9m8-sEiv78
The roots of the race trace back to an original field of eight participants in 1989, when the sport of ultra-marathons (races longer than a 26.2-mile marathon) had not yet reached the level of popularity it has now. While there are races over distances longer than the Knee Knacker's 30 miles, not many are tougher in North America. Over the years top ultra-marathoners have challenged themselves in what is referred to as the "knarliest" trail race in Canada. However, the great appeal of the race is that it caters to runners of all levels testing the limits of their endurance, and not just elite competitors.
Each year, over 50% of the field are runners testing themselves for the first time while the rest of the field are those who just cannot stay away. With such an impeccable community and amazing terrain, Knee Knacker draws people back. To date, five people have run the race 20 times and 47 have completed it 10 times. This year will see Barbara Hughes, Christine Chore, Terry Bushnell, Monty Bennett and Chris Benn look to join the 10-time finishers.
The race starts at 6:00am on Saturday, July 12th just above Horseshoe Bay at Exit #4 off of Westport Road. All runners must arrive at the Panorama Park beach by the race cut-off time of 4:00pm. The following is an estimated schedule of where and when to catch the runners in action:
| | | | | |
| --- | --- | --- | --- | --- |
| Location | First Runner | 5:45 Runner | 7:30 Runner | 10:00 Runner |
| Cypress Bowl downhill ski area | 7:15am | 7:35am | 8:05am | 8:50am |
| Cleveland Dam parking lot | 8:15am | 8:45am | 9:40am | 10:55am |
| Lower Seymour Demonstration Forest parking lot | 9:20am | 10:10am | 11:25am | 1:20pm |
| Panorama Park, Deep Cove | 10:40am | 11:40am | 1:30pm | 4:00pm |
A schedule of race activities is available at www.kneeknacker.com and members of the media are invited and encouraged to attend any or all of the activities posted. A good opportunity to meet the runners is at the packet pickup and race briefing on Thursday and Friday, July 10th and 11th from 5:30 to 7:00pm at Parkgate Community Centre, located at 3625 Banff Court, North Vancouver.
The Knee Knacker is a volunteer-run, non-profit race that has donated over $90,000 to local community organizations since its inception. Proceeds from this year's race will benefit the North Shore Rescue (NSR) team. To make your own donation to NSR, visit the Knee Knacker site at www.kneeknacker.com. For further information, please contact:
Kelsy Trigg,
Race Director (604) 787-8097, rd@kneeknacker.com