Sunday May 28, 2017: Training Run Report by Glenn Pacé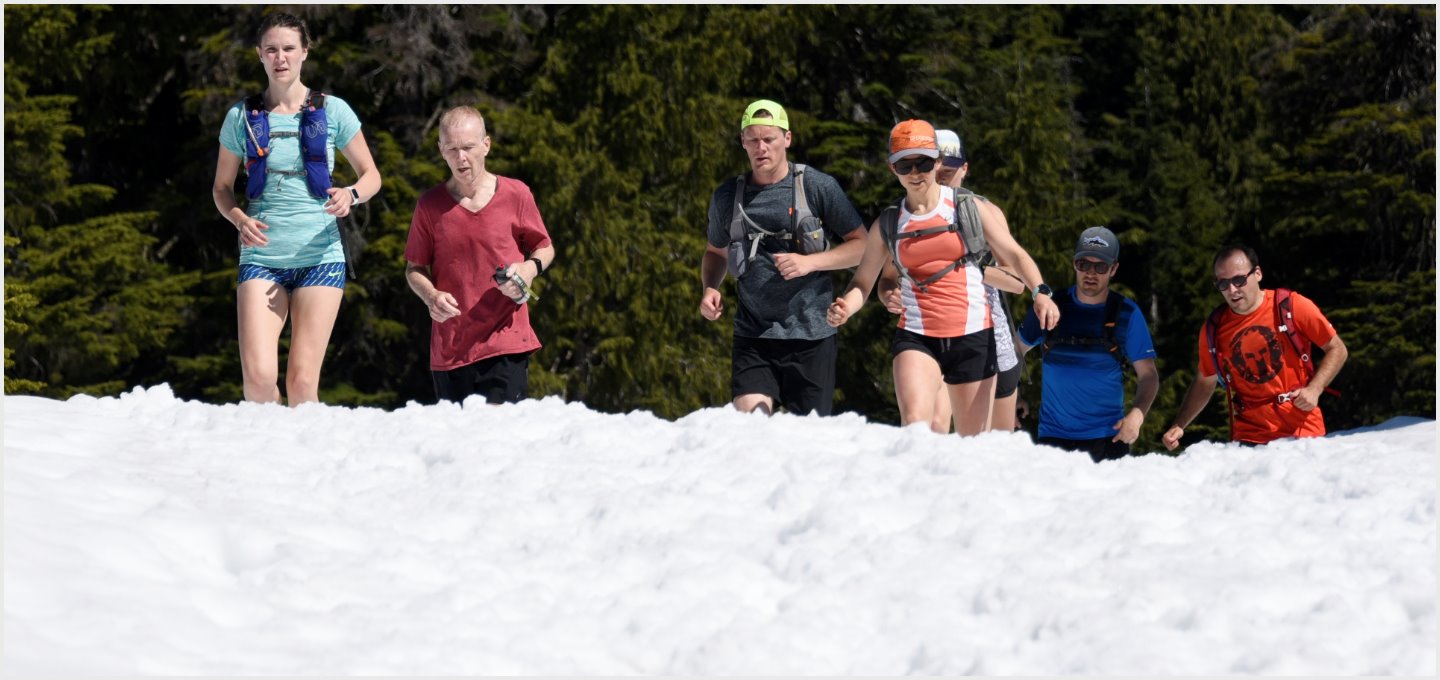 After several weeks of getting familiar with the section between Grouse and Mountain Highway, this week we turned things around and headed West from Cleveland Dam. The plan was to head up the Baden Powell to Hollyburn Mountain, and run back. We knew there would be snow higher up on the mountain, but with the heat wave that the Lower Mainland had been experiencing over the past week, we did not know where it would start.
This particular training run has always been a day of contrasts. In previous years, we have had downright cold and wet weather that left people with frozen hands, shivers, and frozen to the bones. In other years (such as this), the risk of sunburn, dehydration, and heat stroke were the biggest worry.
Once we got moving, it felt like the snow couldn't come fast enough. The sun made itself felt as soon as we started the exposed climb up the power line trail in the British Properties. The forest trees eventually offered some protection from the heat, but there was very little breeze. As we climbed the BP, we saw that some work had been done along the Skyline section of the trail. There were a few downed trees (as should be expected all along the trail since the windstorm last week), but they were easily negotiated. The notorious Hollyburn Chute was clear of any snow, save for the last few metres….but once we reached the open area near the cross country trails, the snow was continuous, slushy, and deep. How does it compare to previous years? Well….it's as much as I have seen since the snow year of 2011. That doesn't guarantee that race day will have as much snow…with 6 weeks to go, a lot can happen….or not.
Running through the sloppy snow made for some awkward strides and people were introduced to some new muscle sets. Some took advantage of the coolness of the snow to lay down and make snow angels.
 I explained to a few newcomers that sometimes "Trail Running" is neither….if anything, the conditions underscored the difference between distance training and time-spent.
Karen and Salvador were out there taking lots of pictures (must have frozen their feet, standing in the snow….you may remember Karen was lying in the snow to get "the shot"!).
A few hearty people carried-on up the final Hollyburn headwall, and many of us turned around at that point. For some of us, the downhill is where we make up time. Just like some people are gifted climbers, others are downhill experts….there is some technique and confidence involved, but it really can affect your overall time. If you are new to trail running, you will start to discover your strengths and weaknesses….and it's best to work on  both. As I mentioned at the pre-run briefing, one of the reasons that the Knee Knacker got it's name, is from the long, pounding downhill sections that can reduce your legs to jelly. The Hollyburn Chute is one of those features that people remember long after the race is over….practice your downhill running….if not for the improved skill, then for training your quads.
Hint #54/40: hand held bottles make great crash pads.
As we descended, the snow melted away, and the heat felt more oppressive than before (I heard it was 29c?!), but with speed comes a breeze….sort of. Finally back at Cleveland Dam, I saw that some kids had set up a by-donation lemonade stand….remember that $5 I had in my water bottle emergency kit? Money well spent!
Next week we will be doing the last 1/2 of the Knee Knacker course. We will be meeting at Panorama Park in Deep Cove and we will shuttle to the start point. For those that have not done this before, it's a right of passage to the Knee Knacker training runs. It's actually a very simple/easy process where everyone will get to the start and everyone who has a car at the start, will get a ride back. Please note the earlier start time next week: WE WILL MEET AT PANORAMA PARK AT 7:30AM.
Also of note, our trail maintenance day is this Saturday (June 3rd). It is usually 4 hours of fun and rewarding work. We will provide coffee and treats. The District will provide tools and material (if you have work gloves, you might want to bring them). You should bring water, or any other snacks you might wish to consume. Details about signing up online will be posted soon!
Regards,
Glenn Pace