Sunday May 14, 2017: Training Run Report by Glenn Pacé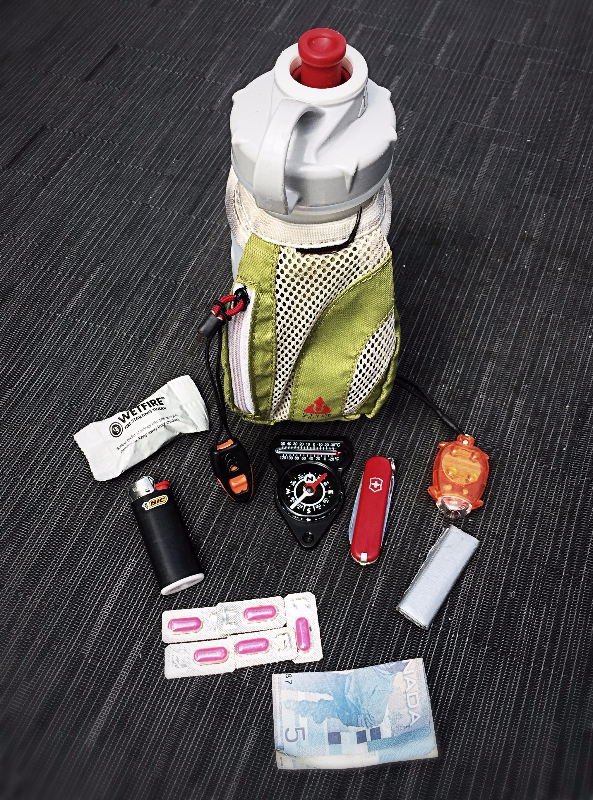 This week's training run saw a few more people join us as we extended the distance by another 30-40 minutes. Since many people were away last week, Patricia and I revisited some of the housekeeping items that we talked about last week. We promise that subsequent training runs will have much shorter pre-run talks!
One of the items that we went over, was emergency gear. Ironically, AdventureSmart had their information tent set up at our turnaround point at the gazebo at LSCR. During the run I had a couple of people ask about my minimalist kit, so here it is:
Turtle LED light. It's not huge, but it was enough to got me off  Mount Whitney when my headlamp died two nights earlier.
Swiss Army knife. Including tweezers, scissors, blade, toothpick, and file.
Duct tape. Rolled onto itself…this can fix at least a bazzillion problems, and doubles as my emergency first aid kit.
Mini-Compass. Just enough to give you a general sense of direction.
Whistle (taken from a backpack).
Mini-Bic lighter. Matches can be too delicate in a downpour. I keep this in a micro zip-lock bag with the fire starter and the Benadryl.
WetFire fire starter...because we live on the Wet Coast.
Benadryl (Antihistamine). Bee sting allergies? Say no more.
Cash($5 shown, but $20 is usually what I carry). In case I need to catch a cab home. Also makes a good fire starter.
NOTE: this is a minimalist kit. That is, the items were selected so that they would meet the bare requirements for an emergency and fit into the zippered pouch on a hand-held bottle, or the back pocket of a pair of shorts. This means that I have no excuse  to not carry them. Depending on the seriousness of my objective, the remoteness of the location, the length of time I will be out there, and the number of people in the group, I will adjust the gear accordingly (i.e. I might add an emergency bivvy bag, use a more accurate compass, carry a sturdier knife, a pack/vest, etc….). I also always carry my cell phone in a zip lock in a pocket, a Buff on my wrist, and (unless it is bluebird summer day) a lightweight rain jacket (around my waist, or in a pack if I'm not wearing it).
The run itself was quite pleasant. It was a comfortably cool morning and the rain managed to hold off until the very end. We had a couple of veterans join us as well as some rookies. As I made my way through the group, I linked up with two guys that are new to trail running, but with very different backgrounds. Harjinder is a not-yet-60 year old marathoner on his first trail run. Graham is a 19 year old hockey player who has jumped into the deep end by starting his running experience by signing up for the Knee Knacker. It really underscores the diversity of participants in this event….typically, 50% of entrants are new to the event and to the distance. As we wound our way around the lower flanks of Grouse, we were met by the sound of cowbells….previous woman's champ Kim Magnus and Wednesday night run leader, Ran Katzman were cheering the runners on from the trail side!!  A little further, some of you may have noticed someone snapping photos…this is Karen Chow. She and her crack team of photographers cover much of the race as well as many of the training runs with some outstanding images. We post them as we get them and they are available online for $1 USD (a buck!!!) and all proceeds go to North Shore Rescue. Next time you see her, make sure to smile and say "Hi!".
Next week we will be heading up Mountain Highway to the top of Grouse Mountain. Make sure you are properly equipped for the change in weather (there will be snow!) and bring some $$ for the gondola ride down.
See you next week!!