2014 – A few interesting stats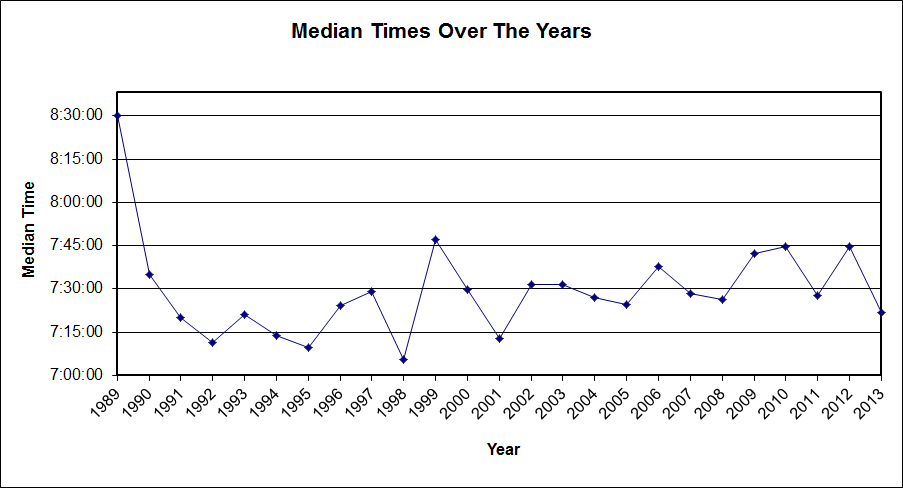 So, would it be an understatement to say that the weather was a factor in the 2014 Knee Knacker? Look at some of the numbers below, and I'm sure it will be quite obvious. It can also be seen in the updates made by Pat Malaviarachchi to the "Temperatures/Times over the Years" chart:
http://www.kneeknacker.com/resultsstats/summary-statistics/temperatures-over-the-years/
Here are a few more stats/observations on 2014 – The Year of the Heat:
Average temperature at 2pm was 29C! This is 5 degrees higher than the previous high for race-day temperatures (on 4 prior occasions).
209 starters
192 fin­ish­ers
91.9% finish rate, which is only slightly lower than the historical average of 93.5%. Great work by all runners on such a challenging day!
102 first-time fin­ish­ers out of the 192 – slightly more than half of all finishers, which is about par for the course
17 Per­sonal Bests, which is much lower than normal but amazing on such a warm day!
Median finish time was 7:51:11 – the slowest ever median time, exceeding the 7:47:00 of 1999 (The Year of the Snow). Note that in '99, the heat was not much of a factor but the huge snowpack from the previous winter sure was – about 10 km of the course was covered by snow in the Cypress/Hollyburn high country.
Course record in Men's Masters (40-49) – Mike Murphy, 4:40:49 (previous record 4:42:32 – Mike Murphy, 2013)
Mike Murphy's winning time of 4:40:49 is now the second fastest time in the 26-year history of the race, only eclipsed by Aaron Heidt's Course Record 4:39:52 set in 2009.
Women's winner Kim Magnus finished in 5:42:23, good for 11th place in the all-time female finishers list. Her 6th place overall finish in 2014 is the second highest ever for a female, with the best being a 5th place overall by Ellie Greenwood when she set her Course Record of 5:06:09 in 2010.