Registration for KKNSTR 2017 opens on NYE!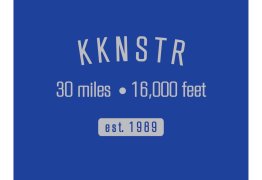 Happy Holidays Everyone!
Here's wishing you health, joy and peace in 2017.
As we all reflect on 2016 and spend time with family and friends, I know many of us are already planning 2017 adventures. So sit back, grab a beverage of choice and read on for Knee Knacker 2017 info. We have some important changes this year.
Just in time for you to close out 2016 with visions of race start lines, we'll open registration on Dec. 31st at noon PST. You will then be able to enter the lottery at http://www.karelo.com/register.php?BID=621&BT=10&Ev=16715 .There's no rush to enter as we'll keep registration open until January 31st, 11:59pm PST. The lottery date is February 2nd, 2017 and we'll do this live via Facebook.
The race fee is the same as last year – $130 CAD. There is a $10 non-refundable fee to enter the lottery, and if your name is drawn, the remainder of the entry fee ($120 CAD) will be charged at that time.
** Important ** Due to the significant increase in entrants over the last few years (a big thank you for this!), we will honour our current 'third-time lucky' rule (aka two-time losers rule) for 2017, however this will be the last year for this. What this means is if you entered and did not get in to the lottery in 2015 AND 2016, AND you enter by the deadline this year, you will have a guaranteed spot for 2017. The reason behind this change is to keep our lottery as fair and open to everyone as possible. If we continued with the current rule, there is a high likelihood that the number of guaranteed spots would quickly elapse open lottery spots and that's no fun for anyone!
We have some committee changes this year. First, a huge thank you to Tom Craik who has moved homes and is now based out of the Interior. While Tom is moving off of our committee, he will stay actively a part of our community including leading our lottery night FB fun. Tom, we miss you already and are super happy you and your family have a wonderful new home.
Additionally, I'm very pleased to share that Katie Clegg and Elise Le Brun have joined our committee. Katie and Elise both bring a wealth of experience and passion for sport to the mix and I'm thrilled they'll be jumping in on a number of key topics this year. The rest of our committee members are returning in full force and we're all excited for what 2017 will bring.
Over the coming weeks & months, we'll continue to post info on our site, FB page & twitter. As always, please feel free to reach out to me with any comments or questions.
Thank you to each of you for being part of our very special Knee Knacker community. Happy training, happy holidays & see you on the trails,
Kelsy Trigg
Race Director