2018 Knee Knacker Press Release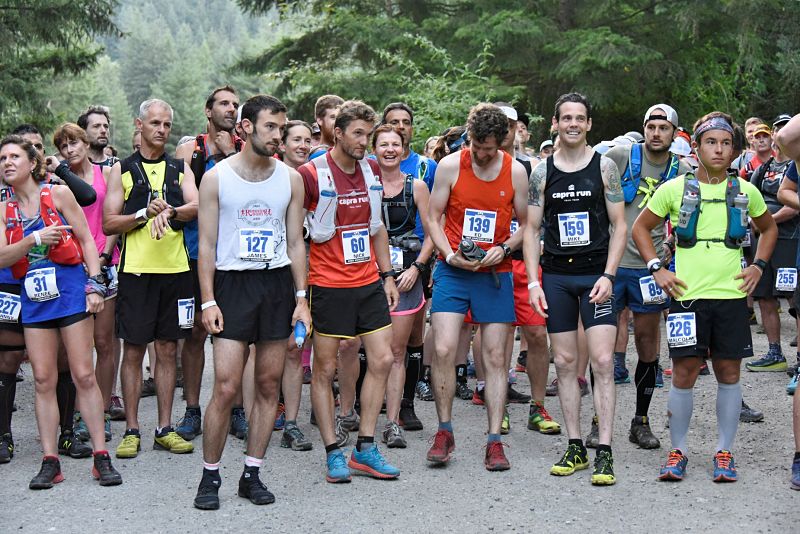 July 9th, 2018 Knee Knacker Press Release
For 30 years the Knee Knacker has graced the North Shore's Baden Powell trail with a deeply passionate bunch of trail lovers. As one of Canada's most challenging ultra-marathons, the Knee Knacker takes runners from just above Horseshoe Bay across the 30-mile (48.6 km) Baden Powell trail. Runners go up, over, and around the major North Shore mountains gaining over 8,000 feet (2,400 meters) in elevation. The 210 runners we expect to see on the 6 am start line on Saturday, July 14th have 10 hours to complete the crossing of the North Shore to Deep Cove with the fastest of them finishing in just over four and a half hours.
Since its inception in 1989, The North Shore Knee Knackering Trail run has continued to sink its roots into the community. In the words of race director Kelsy Trigg, "Knee Knacker gets in your blood". Many runners have come back to the race year after year. Ron Adams and Neil Wakelin will be running for the 28th time this year, Keith Wakelin aims to conquer his 25th, and Paul Cubbon has his sights on his 10th. From a simple plan by eight great fellas in 1989 has hatched a community of people that take pride in the North Shore trail system and all its users. Year after year, runners volunteer their time to build trails, work at aid stations, help at other races, and raise money for North Shore Search and Rescue, a key part of our race day logistics team and our community. With such a kind and caring group of people involved, it's no wonder over 550 people enter the lottery to get in.
This year's race should be an incredibly exciting race with very strong fields of both women and men in addition to excellent course conditions. Morning temperatures are forecast to be in the mid-teens and rising to high 20's by the afternoon. The trails up on Cypress are mostly snow free and the rest is typical North Shore roots and rock.
In the women's field, after two previous wins in 2015 and 2016, it is likely that Darby Kai Standrick, of Vancouver will set the pace early with her sights on bettering her personal best time of 5:29 and closing the gap on Ellie Greenwood's course record of 5:06. Standrick will definitely be pushed by 2008 winner Nicola Gildersleeve, Tara Barry, who took second in 2015, and Brooke Spence, who recently broke the Grouse Grind record for most "Grinds" in 24 hours. All three women have a reputation for strong racing as does Jeanelle Hazlett, who we expect to see in the mix for top females as well.
The men's race also promises to be spectacular, particularly after the halfway point at Cleveland Dam. Several contenders are excellent climbers and should come through the Dam in about two hours and 15 minutes. With such fast starts, anything can happen in the back half. Pushing the pace up Black Mountain and through to Cypress will likely be first time Knee Knackerer Mike Sidic who has had a terrific year so far and is an incredibly strong climber along with James Sparling, local mountain biker. These fellas certainly won't be alone though. Past Knee Knacker runners, Yann Bernaquez, Colin Miller, Dean Perez, and Anthony Bourdel will undoubtedly demonstrate what the value of experience and course knowledge is in the back half of the course. Brady Dunne, Brendan Urlocker, and Ullas Narayana will likely round out the top spots with the likes of 20 time Knee Knacker veteran, Peter Findlay.
With such an impeccable community and amazing terrain, Knee Knacker draws people back in many forms. Sometimes they come back to race and sometimes to volunteer. Knee Knacker boasts the greatest volunteers in the world and we are extremely proud of having one volunteer to every runner. There's actually a waitlist to volunteer for some positions at the Knee Knacker. At this year's Party-in-the-Park finish line, in the absence of Dave Norona, we have Gary Robbins taking to the mic to  announce the arrival of our finishers. And, at Cleveland Dam, Ellie Greenwood will be Tweeting live while working the aid station to support thirsty, tired racers. It's just like our community, regardless of their racing history, to step up and be a special part of someone else's day.
As usual, race day plans to be a busy one but we always love to see the shining smiles of family and friends out there cheering everyone on. Some cowbell is nice too. A schedule of race day activities is available at kneeknacker.com and you can follow along @kneeknacker (Twitter) or the hashtag #KKNSTR18 for live Tweets of the races progress.