2022 Knee Knacker Race day volunteers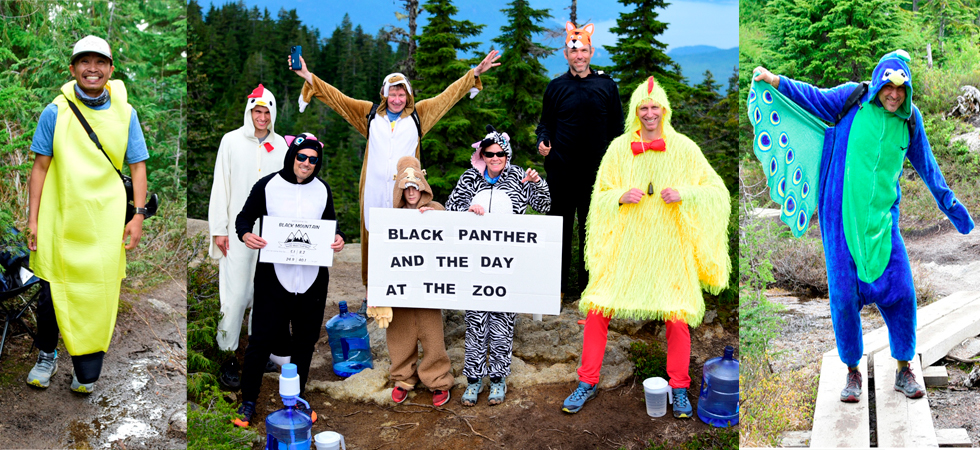 This is the last set of 2022 Race Day photos. It's a photo gallery of some of the 249 Knee Knacker volunteers as they:
Pawed, roared and offered refreshments to runners as they climbed Black Panther Mountain;
Cheered and smiled despite the bugs covering Cypress Aid Station;
Ran Cleveland Dam checkpoint and aid station with the efficiency of a well oiled machine;
Spread cheer to runners at the LSCR "Christmas in July" aid station,
Heigh Ho, Heigh Ho as Snow White and Eight Dwarves worked Hyannis aid station to refresh runners with Coke shots, cold sponge baths, freezies and other cool treats;
Jive with the eye-catching antics of the Yellow Banana Guy at Mt Seymour Aid Station;
Setup key aid stations at Hollyburn, Skyline, Mountain Highway and Mt Seymour;
Kept everyone safe (thank you, North Shore Search and Rescue!);
Swept the entire course before, during and after the race;
Setup and organized eleven aid stations;
Created a pop-up Pizza food truck experience for runners, volunteers and guests at the "Picnic in the Park";
Clocked all the runners at three checkpoints;
Marshaled, directed and cheered runners throughout the course;
Snapped tens of thousand images (not kidding!) and then whittled them down to a several thousand;
Made sure everyone had a great Knee Knacker experience!
THANK YOU VOLUNTEERS! Check out the volunteer photos in this photo album.
A complete list of race day and training run photo albums can be found here.
Thank you runners and volunteers for the moments. Until next year.