Knee Knacker Champions Profile – Patricia Jensen!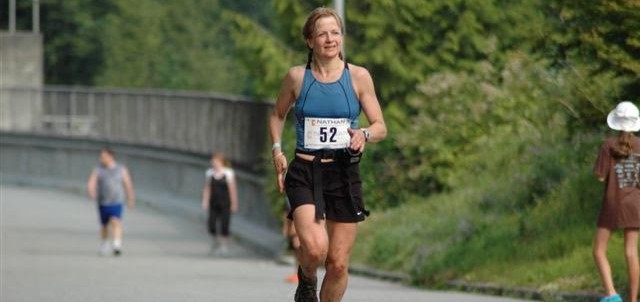 Patricia grew up in Deep Cove with the North Shore mountains right in her backyard. Patricia's family explored Indian Arm and the Sunshine Coast on their boat in the summers, and spent the other seasons on the skiing and hiking. Patricia learned how to ski on Mount Seymour and her parents believed she needed to master the skill of going up a hill on skis as well as going down, so ski tickets were a rarity for her until she was a teenager.  Patricia also spent many Sunday afternoons hiking in the Hollyburn Lodge area as her mom used to have a cabin just off the xc ski trails.
In high school, Patricia joined track and field, and competed in sprints and relays.  When she was in her twenties, she started to run on the local trails.  At that time, there weren't many folks on the trails.  Patricia did a number of road and trails races, such as the Mount Seymour Hill Climb and Rubble Creek Classic. She completed the Penticton Ironman in 1990 and the following year, started looking for a new challenge.
Patricia heard about a trail run which ran the full length of the Baden Powell trail, all the way from Horseshoe Bay to Deep Cove. She and her husband, David did it together, and it opened their eyes to the world of ultra trail running. Patricia notes that she couldn't walk for days afterwards and going down stairs was out of the question without a handrail!  But she was hooked and returned to this special event for the next three years, improving her time each year.
Patricia took some time off and pushed a baby stroller instead of running up mountains, (her daughter, Hannah is also a fantastic athlete!) and returned to Knee Knacker in 2002, just missing first place female by one minute with a time of 6:11.  She came back the following year and set the overall female record in the time of 5:41.  In 2004, Patricia placed first again and held the masters record for 9 years, despite going off course on one section.  In the years that followed, Patricia finished in the top three a few times, but she notes that she's battled a few injuries over the years since then.
In addition to Knee Knacker, Patricia has won other races, including Stormy 67, 5 Peaks and Iron Lung as well as placing second in Dirty Duo 50, but she says her heart always returns to the Knee Knacker.  She shares that she's learned over her years of running that it is much more than placing one foot in front of the other and that her spirit always appreciates the journey regardless of speed.
This year will be Patricia's 13th Knee Knacker.