Hold the date! Runners' Night at Salomon West Vancouver, May 2nd – 6:15pm-8:15pm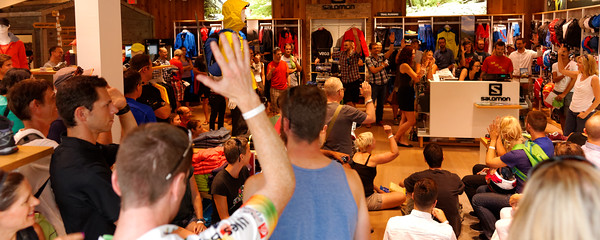 I'm thrilled to share our stellar line-up with you. We have 5 Knee Knacker Champions who will be joining me for a special panel discussion and Q&A. Ellie Greenwood, Peter Findlay, Patricia Jensen, Chris Jones & Keith Wakelin will share their thoughts on what it takes to win the Knee Knacker, their advice for newbies and what pivotal moments they've had in their careers so far. Their winning years span from 1990 to 2015 and their backgrounds, accomplishments and stories are wonderfully varied.
Our agenda for the evening will be:
6:15pm-7:00pm

– Doors open & time for socializing/shopping (the store will be open for shopping before this time, but we won't start handing out tickets until

6:15pm

)

7:00pm – 8:00pm

– Panel Discussion & Q&A

8:15pm

– Doors Close.
A huge thank you to Ginni and her team at Salomon West Van for hosting and for their generous donations. For Runners' Night only, Knee Knacker participants will get an additional discount for a total of 30% off Salomon gear (10% off S-line), and 20% off Suunto.
Please note: we fully expect to 'sell out' this (free) event. To meet fire regulations, we must limit total number of people to 85 so it will be on a first-come, first-served basis. We will start distributing tickets at the door at 6:15pm and when they're gone, they're gone.
As our champions are donating their time & expertise (and two are even coming from out of town), we will be profiling some of their businesses/causes over the coming weeks. Please stay tuned for that too.
I look forward to seeing everyone,
Kelsy.