Sunday June 11, 2017: Training Run Report by Glenn Pacé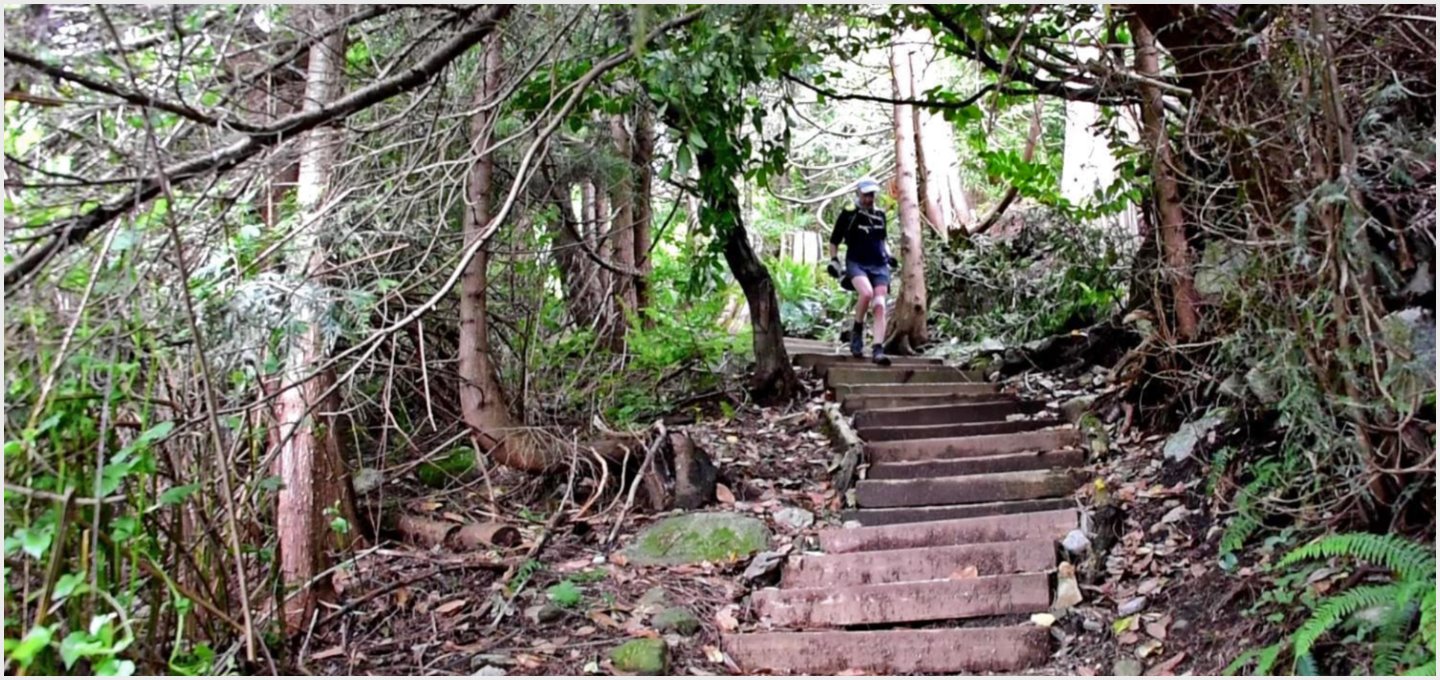 I don't want to jinx the upcoming training runs, so I will not mention how amazingly lucky we've been with the weather so far.
So…we managed to get everyone to the start of this week's run at the Cypress Mountain X-country ski area. It is not quite 3/4 of the race, but it is a good test of fitness.
The sun was out, and the bugs were suspiciously absent (not a great sign for those that'll be standing around up there on race day). For the most part, people were well prepared for the potential conditions for the day, and folks are generally getting a good grasp on fueling and hydrating for the longer runs. Today's long run would take us all the way to the finish at Panorama Park (Deep Cove), so there would be plenty of opportunity to put theory to practice. The order of the day was to arrive in Deep Cove without feeling thirsty or hungry….if you followed through with your nutrition on the run, then you should have been able to do that.
These long runs not only allow you to test your systems (nutrition, gear, and physio), but they also get you used to maintaining focus for a long period of time. As you probably discovered, it is sometimes hard to keep your foot/eye concentration at a high level for several hours on the trails….the moment you let your guard down, is usually when a slip up happens. More often than not, its right after or during a very simple section (right, Karl?).
The run started on a wide open trail of compacted snow that took us to the Ranger station, and eventually back onto firm ground and the Hollyburn Chute. Completely ignoring my own advice, I picked up the pace heading down the Chute (hey, it's the only skill that allows me to make good time!)…I would eventually pay for it.
After rolling through the flow of the section under the power lines, we eventually crossed the first street in the British Properties. Sometimes, all of our focus and ability can't beat a rolling rock, a misstep, or simple bad luck. "RUNNER DOWN!!!" . We heard the shouts from around the corner. Chantal was on the ground and it was obvious that she had rolled her ankle. Not an unusual occurrence on this trail. But unlike Joomins incident the week before, this was not to have the same outcome. The ankle was definitely swelling and could not take body weight. It was clear that her day was over and the goal was to get Chantal back to her car somehow.
There were several things that made the process straightforward.
We had ample help. Since Chantal was running in the front/middle of the pack, there were more than enough people who were willing to help.
Michel offered some Ibuprofen, Dan (who happens to be a captain fireman) found a sturdy stick to use for assistance.
Due to the constricted width of the trail, only one person was able to act as an assist to lean on.
We were in the middle of the British Properties, between two roads (couldn't have been much better)
Chantal is tough as nails and was able stand and hobble down to the next street.
Chantal was also very prepared.  Although she is training for the Knee Knacker, she is also training for Fat Dog, and she was practicing with the mandatory gear for the event. Along with a bivy bag, gloves, and a spare shirt, she also carries a first aid kit (we might have used it if we were truly in the woods, but as the road was nearby), a cell phone, a lightweight jacket, and $20.
It's amazing how fast you cool down once you stop running. The jacket came in very handy. A cab was called, but it turns out that Deep Cove is $40 away…she also had a credit card. Lesson learned…she should have crashed closer to her car….also, this really underscores the importance of running with a partner and being prepared.
Scott and I waited to make sure all was OK, and then we headed back on our way. Feeling fresh, we motored down the trail to Cleveland Dam and started up Nancy Greene Way. We took to the climb with differing styles. Scott motored up at a respectable run, while I decided to power walk. Scott was definitely at the Grouse Gate before me, but the power walk did not put me that far behind. We chugged along up and over Grouse and Fromme and we chatted with many other runners along the way. eventually we popped onto Mountain Highway where we were joined by some mutual friends for the final 16km. I made a final water stop at the LSCR Gazebo, and we dropped further into Lynn Canyon before the haul back up and over to the Seymour River.
This is about the time that my stomach started to disagree with the whole running thing. The only thing I could do was slow my pace down and move forward. For those that are old hats at this ultra-thing, you know the saying…."relentless forward motion". So up I went. Scott, Doug, and Caroline kindly waited for me at Hyannis, but it was clear that I was not going to recover anytime soon…so they left me for dead (just kidding, they know the gig…. they assumed I would catch them on the downhill after the Seymour Grind).
After a long slow climb up the Seymour Grind, I didn't feel much better on the downhill….so I just kept walking. I briefly considered hailing a cab from Mount Seymour Road, but that would have been really poor form and a waste of perfectly good beer money (which is an excellent recovery aid). It wasn't until I hit the other side of Indian River Road that I was comfortable enough to start a trot. Once I got to Quarry Rock, I was feeling like myself again and was able to pick up the pace (Classic Ultra Running Saying: "No matter how bad you feel, eventually you will feel much better"….there's also a reciprocal saying, but I won't get into that). Unfortunately, the popularity of that section of the trail made passing almost impossible in spots, so I just bide my time looking for passing lanes.
I finally arrive in Deep Cove to the cheers of….no one? Yep…it was a long one. Scott, Caroline, and Doug were already up at the car and changed into clean shirts and flip flops, and looking like they probably had time for a hot tub, a shower and a massage. Lesson learned: If you're going to have a crappy day, it's better to do it on a training run than on race day.
NEXT: This next weekend we will be covering the first 3/4 of the course. If you have not done this section before, be advised….It is the most technical section, with the biggest climb, and it is the most remote. It is also STEEP. Watch the weather forecast and come prepared. Remember, the temperature can be 6c colder at the top of Black than at YVR (where they measure Vancouver's temp). There is lots of snow up there. Expect to get cold wet feet…not just from the sloppy snow, but from potentially dunking them in nearly frozen creek or post-holing into one. In past training runs, we have had amazing conditions with spectacular views. In other years, we have had heavy rain, sideways snow, frozen fingers, and shivering people.  Consider carrying a lightweight jacket (or at least a garbage bag), gloves, and even spare socks (good practice for your drop bag at Cleveland). This is not to be treated like a run in Stanley Park.
Chantal, I hope your ankle is on the mend.
Run safe.
Glenn