The amazing team at Salomon West Vancouver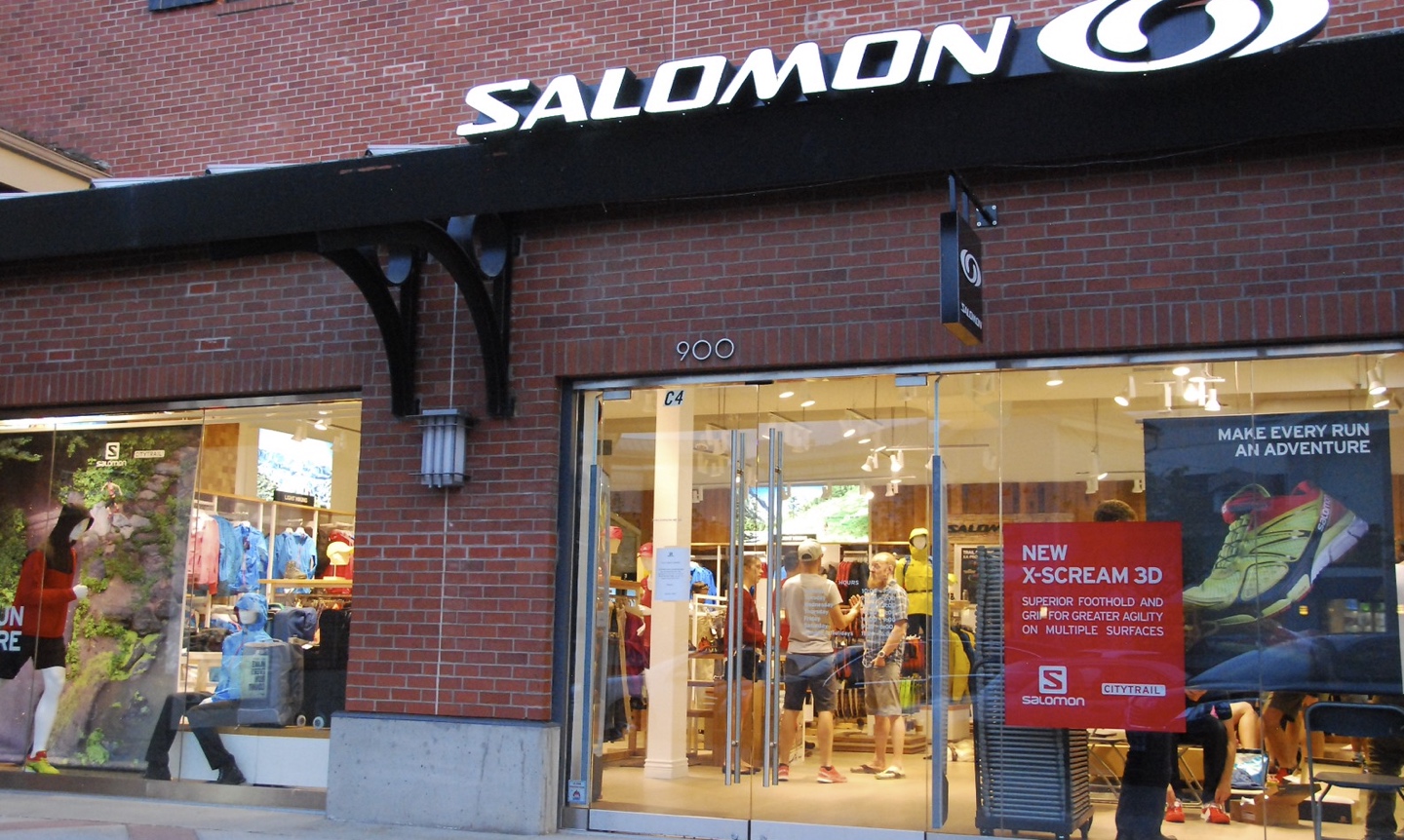 [Editor's note: The Knee Knacker race relies on the support of partners and sponsors to help produce our event. But we're fussy so we only work with sponsors and people who have good roots in the community. This year, Tom Craik, our Sponsor Co-ordinator, profiles some of our partners and the great folks who are working to help get you across the finish line.]
I've been spending a fair bit of time with the people at our amazing community shop sponsor, Salomon West Vancouver, and I'm lovin' these folks. Not only do they know their gear and what makes people tick, they come with a wealth of experience. In fact, several of them are Knee Knackerers themselves: Gemma Slaughter and Solana Klassen of the shop's team and Ged Ashton, sales guru extraordinaire.
The Salomon West Vancouver team also includes Wade Bone, Derek Chang, Garreth Lloyd, Ryan Vanstone, Gabe Wilson and Brad Watt. They seem to do everything and are super keen to get YOU race ready. If you're lucky, you might also catch a glimpse of shop athlete James Marshall, a man who knows everything about the gear and the way it performs in North Shore conditions.
At the helm of all this greatness, leading with wisdom, passion and an outstanding sense of humour is Ginni Mason, Store Manager. I asked her about her Knee Knacker experience and here's what she said.
When I joined the Salomon team in 2013, I knew that I would be working very closely with a lot of amazing athletes. Never in my wildest dreams did I think that I would be working with athletes as amazing as the Knee Knacker crew! As a 'casual' runner, I run the same mileage in an average week that you all run in the one day – it is so inspiring to see the hard work and dedication that you Knee Knackerers have!

I am so excited about the partnership that Salomon West Vancouver has with the Knee Knacker, and am even more excited to be able to help all of you amazing athletes get the gear you need to embark on this wild journey. Last year I was unable to attend the finish line to watch you finish your Knee Knacker journey as I was having a baby, however this year I will be there to cheer you all on – after all, I am one of your biggest fans!

Being a part of your Knee Knacker adventure from beginning to end is something that I have been looking forward to all year. I am really looking forward to meeting you all over the course of the next few months! Please don't be shy, pop in the store when you are in the 'hood, and say hello. I love hearing all of your stories about how the training is (or isn't!) going!! My team and I are here and ready to answer any questions you may have. Good luck, and happy Knee Knackering!
Tom Craik,
Knee Knacker Sponsor Co-ordinator